2-DIN CD Receiver featuring Bluetooth® / USB / SiriusXM / Amazon Alexa / 13-Band EQ / Variable-Color Illumination / JVC Remote App Compatibility
Highlights
Amazon Alexa Compatible
With Alexa on your JVC Receivers, you can use your voice to control your music and much more. Using Alexa is as easy as asking a question. Just ask and Alexa can play your favorite song, skip to the next track, change the volume, read you the news and more.

Available Functions
Play Music

Amazon Music

iHeartRadio

Tune-in

audible

Sirius XM

Pandora

Check Weather
Check Local News
Question about general things
Timer / Alarm
Check Wikipedia
*Some functions and services are not available in all areas.
Using Alexa on the JVC Receiver is simple and hands-free, just ask and Alexa will respond instantly.
**For more information, visit http://www.jvc.net/car/app/amazon_alexa/
4.0V High-Voltage 3 Pre-Outs
Equipped with three RCA terminals for pre-outs with 4.0V high voltage. Increasing the output voltage from the pre-outs helps reduce transmission noise and distortion when connected with an external amplifier.
Sound Optimization
K2 Technology for Enhanced Digital Sound Quality
K2 is a JVC original technology that reproduces the original master sound by expanding the frequency range. For example, K2 will expand the digital data of the audio CD recorded at 44.1kHz to 192kHz. It is also possible to recreate the high-frequency range above 20kHz that is cut during the CD formatting.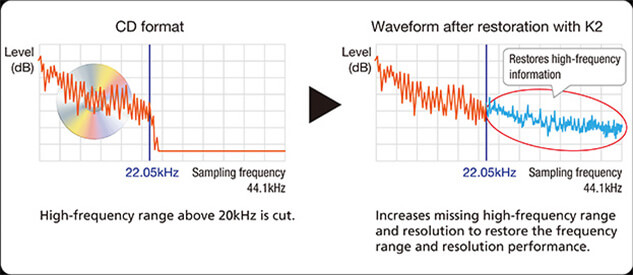 Time Alignment
By selecting the speaker type and the distance to the center of the listening position, the receiver will automatically adjust the timing of the sound output from each of the speakers so that the sound from each of the speakers will arrive exactly at the same time to the listening position.
The different distances from each speaker to driver cause the delay of sound.
The Time Alignment allows you to digitally delay the closest speakers so that every speaker reaches your ears at the same time.

Space Enhancement
Space Enhancement is a virtual surround technology using 2 speakers. Simply select the vehicle size, and the receiver automatically adjusts the sound effectively.

Sound Response
This function boosts the low frequencies which can be lost during compression to MP3 or AAC.

Sound Lift
Virtually manipulate the height of the speakers by adjusting the sound frequencies.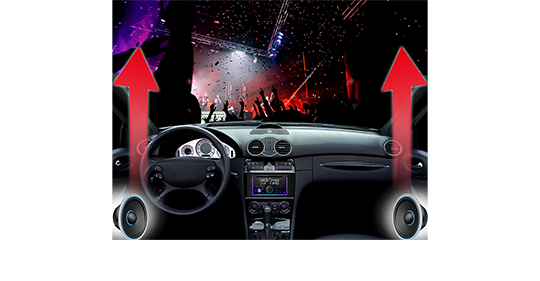 Volume Link EQ
Volume Link EQ boosts specific frequencies in the audio signal to compensate for the impact of road noise. It boosts frequencies in the music that are affected by road noise.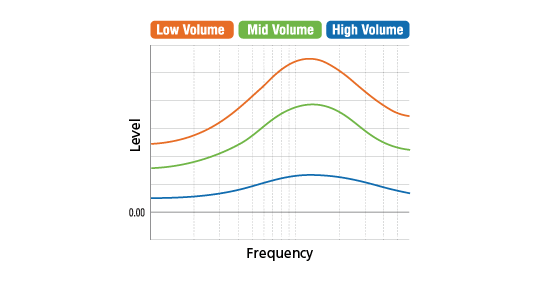 13-Band Equalizer
Use the 13-Band Equalizer to manually adjust the sound to your taste.
Bluetooth® Control
Streaming Music
Listen to popular music applications and music stored on your device with basic audio controls.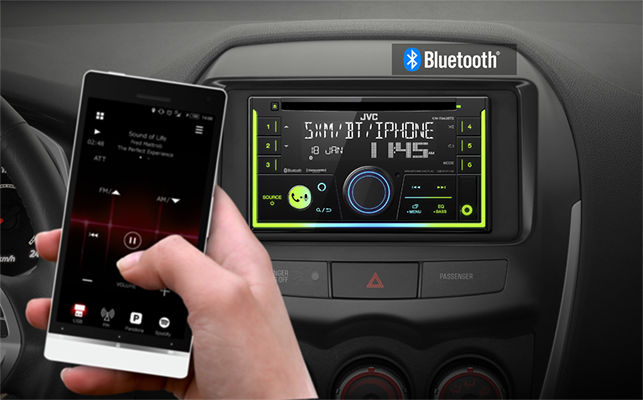 JVC Streaming DJ
Connect up to 5 Bluetooth devices simultaneously, allowing you and your friends to take turns streaming music like a DJ. Move to the groove and get the party pumping to the max.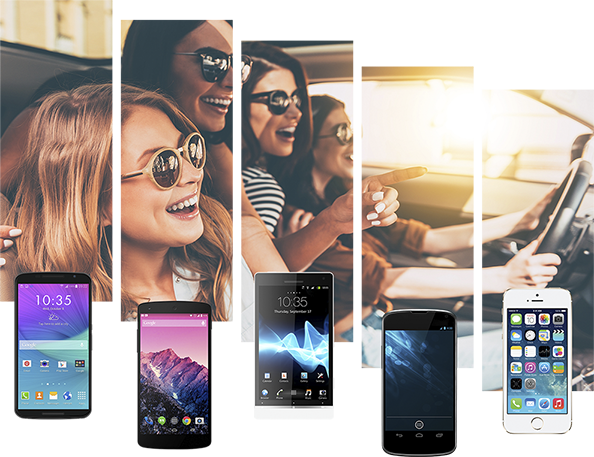 2 Phones Full-Time Connection
You can connect two phones full time via Bluetooth, with secure and simple pairing. Calls to either phone can be received by the push of a key on the receiver.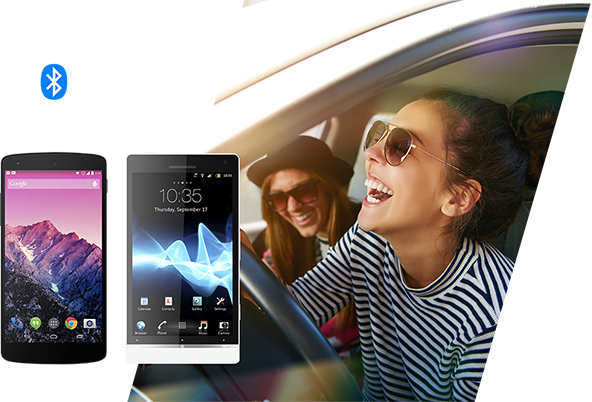 Bluetooth Hands-Free Profile 1.7
HFP 1.7 Wideband Speech is supported, allowing you to enjoy hands-free phoning convenience together with higher voice quality and improved noise reduction.
iPhone®
 

Bluetooth Automatic Pairing

Just connect your iPhone via USB and the automatic Bluetooth pairing function will work to complete the pairing. No complicated manual procedure to worry about.
Low Battery Information
When the battery of the connected Bluetooth device runs low, a beep sound is heard and "LOW BATTERY" appears on the receiver.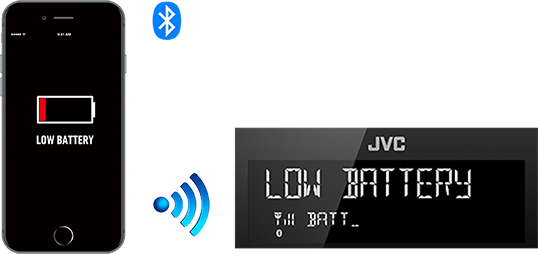 Display
2-Line VA LCD Display
Equipped with VA (Vertical Alignment) LCD panels that offer a broader angle of view and better visibility. The 2-line display provides more information with animation effects.

2-Zone Variable-Color Illumination
You can mix the front panel illumination into 2 separate color zones. 50 preset patterns (49 colors + 1 user color preset) are available for easy customization. In addition, manual setting is possible to set each RGB color by 32 steps, providing a total of 32,768 different colors for each zone, 1 and 2, to match your preferences. You can even enjoy moving illumination, selectable from 10 color animation patterns.

Music Sync. Effect
Changes illumination patterns according to the rhythm of the music. Illumination key colors can be preset the way you like.
Spanish Text Display Compatible
On-screen display menu now available in Spanish.

USB
High Current 1.5A Charging
Rapidly charge your smartphone using the USB port, with up to a maximum of 1.5A.
Internet Radio/Digital Radio
Ready for SiriusXM Radio
(optional SiriusXM tuner required, sold separately)
Ready for SiriusXM Radio. You can listen to over 100 Channels of music, sports, and entertainment.

General
Remote Control App
Control the receiver's source directly from the smartphone using simple finger gestures with "JVC Remote" app* (now available for both iOS and Android). You can even customize your audio setting, and see detailed source information such as song title, artist name and album art etc. from the smartphone.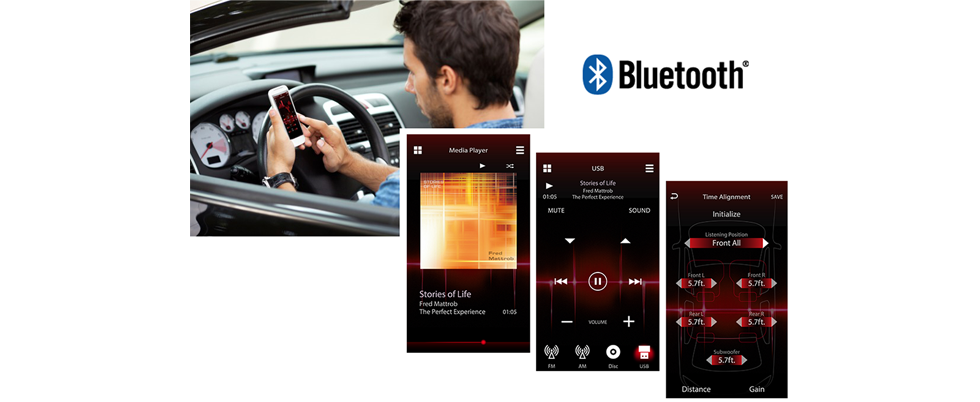 *JVC Remote App
For more information, visit
www.jvc.net/car/app/jvc_remote/
Remote Control (Optional)
Remote control (RM-RK52) is optionally available.

Steering Wheel Remote Control Ready
Factory steering wheel control functions can be retained with a third-party adapter (sold separately).
KW-R950BTS

Display

Display Type

2-Line VA LCD Display

LCD Color

White

Key Color

Variable Color

Music Sync. Effect

Yes

Spanish Text Display Compatible

Yes

French Text Display Compatible

Yes

Auto Dimmer

Yes

Brightness Control

Yes

Media Playback

MP3 Compatible with Tag

CD/USB

WMA Compatible with Tag

CD/USB

WAV Compatible with Tag

USB

AAC Compatible with Tag

CD/USB

FLAC Compatible with Tag

USB

Bluetooth Control

Built-in Bluetooth[1]

Yes (Ver 4.2, Wired-Mic included)

Hands Free Call

Yes (HFP 1.7.1)

2 Phones Full-Time Connection

Yes

Audio Streaming & Control (A2DP, AVRCP)

Yes (AVRCP 1.6.1)

Supported Audio Formats

AAC / SBC

5 BT-Audio Connection [JVC Streaming DJ]

Yes

Voice Dialing (voice recognition compatible mobile phone required)

Yes

Phone Book Access Profile (PBAP)

Yes

iPhone & Android Automatic Pairing

Yes (iPhone only)

Low Battery Information

Yes

Android Control

Android Music Playback

Yes (via Bluetooth(R))

iPod/iPhone Control

iPod/iPhone Music Playback

Yes (via USB or Bluetooth(R))

Amazon Alexa

Amazon Alexa Compatible

Yes

USB

Position

Front

USB Power Supply

Yes (1.5A)

Drive Change Mode for Mass Storage Class

Yes

Inputs and Outputs

AUX Input

1 (Front)

Line Output Terminals (Pair)

3 Pairs (Front + Rear + Subwoofer)

Pre-Output Level

4.0V

Subwoofer Output with Level/Frequency Control

Yes (Level -50 to +10)

Subwoofer Output Level

4.0V

Tuner

SiriusXM Ready

Yes

Radio Data Broadcast System (RBDS)

Yes

Preset Stations

18FM + 6AM

Strong Station Memory (for FM)

Yes

Tuner Preset Memory (for power disconnection)

Yes

FM

Frequency Range (Frequency Step)

87.9 - 107.9MHz (200kHz)

AM

Frequency Range (Frequency Step)

530 - 1,700kHz (10kHz)

Audio

Maximum Power Output

50W x 4 / 50W x 2 +Subwoofer (4 ohms) 50W x 1

Full Bandwidth Power (at less than 1%THD)

22W x 4

Subwoofer Direct Connection (Mono Lch)

Yes

EQ

Yes (13-Band Graphic EQ)

Preset EQ

Yes (11-Preset)

Bass Boost

Yes

Loudness Control

Yes

High-Pass Filter/Low-Pass Filter

Yes/Yes

K2 Technology

Yes

Time Alignment

Yes

Space Enhancement

Yes

Sound Response

Yes

Sound Lift

Yes

Volume Link EQ

Yes

General

Back Up Memory

Yes

Wireless Remote Control

Ready (RM-RK52 required)

Steering Remote Control Ready

Yes

Remote Control Application

Yes

Dimensions (W x H x D)

Installation Size

7" x 3-15/16" x 6-1/8" (178 x 100 x 156mm)

Weight

3.1 lbs. (1.4kg)

Unit weight in individual package

1.8kg
[1]Available functions depend on mobile phone.